TKO Roofing + Repair
806-680-1000
---
Welcome to the TKO Roofing and Repair web site. TKO is owned and operated by Mr. Shaun Owings who is an Amarillo, TX local. He was raised in Amarillo and has been roofing in the area ever since. He has 17 years experience in all types of roofing. We specialize in laminated, composition, shake, and cedar types of roofs. Our mobile number is 806-680-1000 and home number is 806-655-1772. We offer FREE ESTIMATES to interested clients and all
our work is guaranteed with a 5 year workmanship warranty. For your protection we are licensed and bonded. All new roofs come included with new valley metal, new drip edge, 30 pound felt, new vents, and precise cleanup. To see more information on roof types, click on the link of your choice below.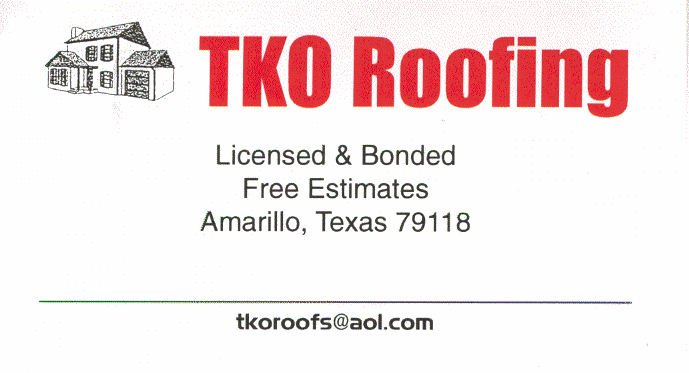 Return to Top of Page
Come back and see us again.